Parking at Birmingham Airport
Are you searching the lowest price parking at Birmingham airport? We compare Birmingham airport car parks, you can find the best parking deals from the leading BHX parking providers for meet and greet, park and ride or on-airport parking. Either you want a short stay parking or a long stay parking. Finding the best choice of BHX parking deals.
Compare Cheap Birmingham Aiport Car Parks




Car Park

Distence

Transfers

Guide price

Drivefly - Flex
Surrey GU15 9LY
0.15 miles
No transfer/Shuttle is required, Drivefly Chauffeur will meet you at the Airport

£12.64

perday




TOTAL: £88.50



Simply P Super Saver - Flex
Surrey GU15 9LY
0.00 miles
No transfer/Shuttle is required,Simply Park Super Saver Chauffeur will meet you at the Airport

£11.64

perday




TOTAL: £81.50



Birmingham airport is a very large one, rightfully according to the need. Thousands of passenger's board planes and land at the airport every day. Such numbers require an ample amount of services to accommodate people in all means. With the ever-expanding services, car parking at Birmingham airport does not seem like a big problem. There are several options available for park and fly depending on whether your stay would be a short or a long term one. If you choose not to go for the meet and greet option, parking at the Birmingham airport has been divided into several portions based on the distance to the terminal. Car Parks 1, 2 and 3 are at walking distance from the terminal while Car Park 4, 5 and 7 requires will require a shuttle service which is actually free.
Meet and Greet Parking at Birmingham Airport
People who travel together in large numbers can opt for the meet and greet services at Birmingham airport. In the case of meet and greet, you are basically met at the airport by a designated chauffeur who takes your car from you after you have taken your travel luggage. The chauffeur parks it in an exclusive and secure area at the airport. When you come back, you find your car waiting for you outside the terminal, as you get off the plane and clear immigration. This avoids the hassle of rounding every member up for a family or group while having to park the car yourself farther away from the terminal if you choose not to go with Birmingham airport valet parking. In this way, the method not only saves you time but also secures that the group manages to board the plane without any sort of complications. Birmingham airport meet and greet parking services have trained and certified chaffers who are more than equipped to fulfill their jobs to the highest degree. If you're looking for comfort, the meet and greet service is the way to go!
Birmingham Airport Park and Ride Service
The best way to this is to research beforehand so that it does not hamper your travel experience later on when it's time to go. Airport parking is one of the expenses that may slide under the rug for now but come to bite you later, which is why a solid plan has to be in place. For the citizens, Birmingham airport park and ride service is the cheapest out of all the parking options. Though there are people who just wouldn't choose the park and ride service simply because the meet and greet package provides more convenience. One of the major concerns of the people who park and ride at the Birmingham airport is that they would have to walk back to the terminal which could be tiresome for some people. Little do they know there is a shuttle service exclusively for the consumers of the park and ride service at Birmingham airport which makes the package more favorable. It sure does help the fact that the park and ride package is one of the cheapest you will see across all that are offered at the Birmingham airport. Not to mention your car will be parked in a completely safe parking facility with dedicated security guards and 24-hour surveillance. Thus, if you want the best for the cheapest, you have to look up the schedule for the shuttle service in advance and essentially experience the same kind of convenience that you've come to expect.
On-Site Parking Birmingham airport parking
Time is of the essence, specially when you are a businessman traveling regarding some official work. Under such conditions, you are most likely to choose an airport parking service that best saves your time at the Birmingham airport. In other words, you are most likely to choose the on-site Birmingham airport parking service. If you choose the on-site parking at Birmingham airport, you will have the car parked as close to the terminal as possible and this will allow you to save a lot of time without having to take long walks to the off-site parking. So, this option is best for those who want to be punctual of their time and park as close to the terminal as possible. Likewise, you will find the cheapest on-site Birmingham airport parking with Simply Park and Fly and you can validate this as well after researching all your options.
Short Stay Parking at Birmingham airport
Sometimes you must travel for a very short period of time. For example, for someone who has a court date in another city, choosing the default parking service might not be a good decision. This individual requires a parking space for a very short period and not pay extra. He can essentially go for the short stay Birmingham airport parking. Some customer has even said that the short term parking serves as a better option for those who have interviews in another city or want to visit some friend for a couple of days. To get the cheapest short stay parking at Birmingham airport, it is advised that you book very well in advance to avoid discomfort and get the best price. Besides the registration process is very easy to follow and you will not face any difficulty while setting up your service.
Long Stay Parking at Birmingham Airport
When a long vacation to your favorite exotic location is due, something you might want to consider is long term parking at Birmingham airport. The best thing for the parking service is the security it will offer your vehicle. There are security guards presents in the area through 24 hours and not to mention video surveillance which essentially makes the area theft proof. Long term parking areas are located in the offsite parking, so it is best to learn of the shuttle schedule beforehand. You will find prices at Simply Park and Fly to be one of the cheapest for Birmingham airport long stay parking and this is also validated after thorough research with other service providers. Though quality is something you will never find a difference in when signing up for your service with Simply Park and Fly.
Birmingham Airport Map and Directions
Facilities at the Birmingham Airport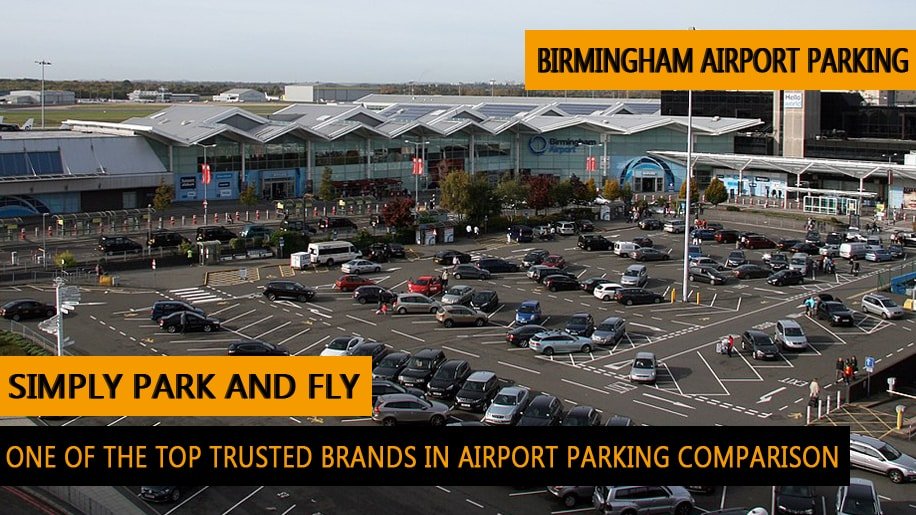 The Birmingham airport offers other miscellaneous services as well. With a presence of a duty free shop and other shopping outlets, you can catch up on the gift lists that you may possibly have forgotten about while you wait for the meet and greet chauffeur. For those looking to wake themselves up, there are many cafes for coffee as well! needless to say, the Birmingham airport is packed with services which would be more than enough to fulfill your travel and leisure needs which is why Simply Park and Fly is serves as parking facilitators at the place. We hope to see you to use our cheapest Birmingham airport parking services soon and enjoy your stay at the international airport!
We have collected
472
reviews for Birmingham airport parking with an average rating of
4.4
out of 5